Our Executive Room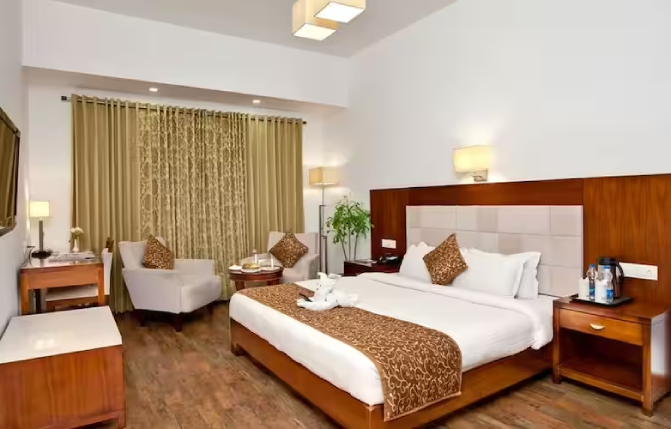 Discover a refined retreat at Edhatu Valley View Resort & Spa, where our 4 exclusive Executive Rooms redefine luxury living in Udaipur. Each room is a masterpiece, appointed with fine furniture and adorned with touches of rare wood, creating an ambiance that transcends ordinary accommodations.
Step into an oasis of sophistication with a walk-in dressing room, private balcony overlooking the serene swimming pool, or a frame bay window seating that adds a touch of Thai-Balinese palette to the room. Our Executive Rooms are crafted to provide a luxurious escape, where every detail reflects a commitment to excellence.
Embark on a visual journey surrounded by embroidered throw pillows, striking murals, and special touches that heighten the atmosphere. The fusion of art and functionality creates an environment where elegance meets comfort, ensuring a stay beyond expectations.
Pamper yourself in elegant bathrooms equipped with all the required amenities, including a separate shower area. Unwind in a space designed for relaxation, where every moment is an indulgence in the art of luxurious living.
Edhatu Valley View Resort & Spa invites you to elevate your stay in Udaipur by immersing yourself in the refined ambiance of our Executive Rooms. It's not just accommodation; it's an experience that captures the essence of opulence and sets the stage for unforgettable moments.
Enjoy Our Premium Amenities

LCD Television

Air Conditioning

24 Hours Security

laundry

Free WIFI

Tea Coffee Maker
Taxi Service

Plush Bedding

Work Desk

Wardrobe

Housekeeping

Room Service